School Events
Fire-brigade Visit - July 2023
On Friday 14th July, Year 2 were visited by Rochdale Fire-Brigade. The children have been learning about The Great Fire of London in history and were tasked with building their own houses. The fire brigade came and set the houses on fire to show the children how quickly the fire spread and to give them a quick lesson on fire safety. The children were amazed to see how quickly their houses spread the fire and loved having the firemen visit them at school.
| | | | |
| --- | --- | --- | --- |
| | | | |
| | | | |
Primary Engineering Award Ceremony - July 2023
In February a few classes were visited by Engineers for The Leaders Award. The children were asked to think of a problem that engineering can solve and then they had to create a design to solve it. The children's designs were sent off and judged, the awards ceremony took place on 10th July and the winner was chosen. Congratulations to Benjamin in year 6, Max and Ibrahim from year 2 who were chosen as the winners! We are very proud of them all!
| | | | |
| --- | --- | --- | --- |
| | | | |
| | | | |

Jodrell Bank - July 2023
Our year five classes took a trip to Jodell Bank on Tuesday 4th July. They did a guided tour of the Solar System and discovered constellations in the Space Dome. They took a look around the exhibitions, learning how the Lovell Telescope views the Universe and about the live science taking place at this UNESCO World Heritage Site. They children behaved beautifully and had an amazing day learning all about space!
| | | |
| --- | --- | --- |
| | | |
| | | |
Eureka Museum - June 2023
Our year 2 classes took a trip to Eureka on the 30th June. The children were very excited about visiting the museum and couldn't wait to explore! They had a gross lab science show where the children learnt about their bodily functions, after this they ventured to the living and working together gallery where they played in the shop, house, garage and bank. They then visited the all about me gallery before heading back to school. All children behaved exceptionally well and had a lovely time!
| | | | |
| --- | --- | --- | --- |
| | | | |
| | | | |
Jorvik Viking Museum - June 2023
Our year 4 classes took a trip to Jorvik Viking Centre in York this week. The children had the chance to visit the Viking Centre, Barley Hall and DIG: An Archaeological Adventure - this gave the children a hands-on experience of being an archaeologist! The children behaved beautifully and loved their trip to York.
Sports Day - June 2023
We had our whole school sports day on Tuesday 27th June. The children had a fabulous day and it was lovely to see so many families cheering on our children. The children really enjoyed the races and activities that Mr Howells and his team planned for them!
Rochdale Council Recycling Artwork Competition - June 2023
Huge congratulations to Imogen in Year 5, whose winning entry to the Rochdale Council Recycling Artwork Competition has now been added to one of the council's
bin wagons. Council workers came to school with the bin wagon so that we could see her work first hand. We are all very proud of Imogen and her important
message about litter and recycling to protect the planet from climate change. The bin wagon will be in use for the next 3 years, so many across the borough will see
Imogen's work. A fantastic achievement, Imogen! Well done!
Year 4 time travel visit - May 2023
Year 4 were visited by Time Travel Education this half term. They have been learning about the second world war and enjoyed this workshop. They got to look at different artifacts from WW2 and even learnt some basic first aid skills!
| | | | |
| --- | --- | --- | --- |
| | | | |
| | | | |
King Charles III coronation party - May 2023
We celebrated the King's Coronation throughout the school this half-term. The children decorated their classrooms, had a visit from King Charles III and spent the day learning all about the coronation. The children loved experiencing this historical event in school and we hope they enjoyed it as much as we did.
Early Years trip to Blackpool Zoo - May 2023
Our nursery and reception children visited Blackpool zoo this half term. They traveled by coach and spent the day wandering around in the sunshine looking at all the different animals. All the children behaved exceptionally and loved every moment of it!
Year 2 visit to Rochdale Fire Museum - April 2023
Our year 2 classes went for a visit to Rochdale Fire museum this month. They took the train into Rochdale which was very exciting for the children. This trip to the Fire Museum was to enhance their learning about the Great Fire of London and the fire service. All children were behaved exceptionally and they loved every minute of it!
Linking school visit from St Mary's - April 2023
We had a wonderful visit from St Mary's Primary School in Middleton this week, our 5T class were paired with one of their year 4 classes. The children were lucky enough to do a ceramics workshop where they made some work to make a collective art installation which will be displayed in Touchstones in the summer. They also worked with a musician to compose a song together. All children had a lovely day together!
King David's Passover Celebration - March 2023
We were honoured to be invited to King David's Primary School in Manchester to share their Passover Seder with the children, staff and families. A small group of Key Stage 2 children attended with Mrs Taylor and Mrs Firth. It was a delight to be involved in the tradition of the Jewish festival and we learnt a lot about the Jewish faith. We look forward to sharing learning with King David's school again in the future.
Easter Egg Competition - March 2023
To celebrate Easter we asked Key Stage 2 children to create their own Easter eggs. It is clear that our children put a lot of thought and effort into their creations. Deacon Marcianne and Vice Chair of Governors Mrs Price had a very tough task judging the winners. Congratulations to those selected.
Rochdale Performing Arts Festival - March 2023
Congratulations to our Dance Team and Bollywood dancers for their superb performance at the Rochdale Performing arts festival. The Bollywood dancers achieved a Highly Commended and the Dance team achieved Honours, winning their class. We are very proud of them all, well done!
Rochdale Dance Festival - March 2023
Our dance team performed at Middleton Arena as part of the Rochdale Borough School Games Partnership Dance Festival on Thursday `6th March. The children have worked hard over the past few months to learn a routine taught by our dance coach Miss Becky. They demonstrated great skill, control and focus and we are exceptionally proud of them all!
Snow Day! - March 2023
The children had a great time playing in the snow at school, they enjoyed their time outside with their peers creating different items out of the snow.
| | | | |
| --- | --- | --- | --- |
| | | | |
| | | | |
School Library Opening - March 2023
After several years of hard work, the refurbished and replenished School Library was formally opened by Councillor Michael Holly, Deputy Mayor of Rochdale. The school council were exceptional in how well they represented the children of Smithy Bridge. They spoke with confidence and enthusiasm and we are extremely proud of them. We are looking forward to all children accessing the new School Library in the coming weeks.
World Book Day 2023
The children and grown up's in school celebrated world book day this year by dressing up as their favourite book character or in their pyjamas ready for a bedtime story. The children looked fantastic and had a great day celebrating the power of reading. We were also very privileged to be joined by Deputy Mayor Michael Holly who shared some words of encouragement about reading in our World Book Day assembly.
Engineers Visit - February 2023
Some of the children in school were visited by Engineers for The Leaders Award this half term. The Leaders Award competition is a STEM program designed to encourage children to engage in engineering. The children were able to chat to an engineer and they learnt about what an engineer is and about all the different types of engineering. They were then given a task to do. They were asked to think of a problem that engineering can solve and create a design to solve it. This was then sent off to be judged with a chance of winning a trophy. The children were very creative with this task and enjoyed learning all about engineering!
Mayan Visit - February 2023
Year 5 were visited by Past Productions who came into school to provide a an insight into ancient Mayan times. The children took part in drama activities, quizzes and food tasting. There was an opportunity to learn about and sketch ancient Mayan artifacts. The day was finished off with the whole of Year 5 taking part in a dramatic retelling of the Mayan creation story. This was a really unique experience and the children had a fantastic time!
| | | | |
| --- | --- | --- | --- |
| | | | |
Chinese New Year 2023
The children and staff celebrated Chinese New Year, we had a fabulous assembly to start the day and the children took part in a range of activities in the classroom. Victoria from 1P shared her beautiful traditional Chinese dancing with the whole school during assembly which was incredible, all the staff and children loved it!
Kung Hei Fat Choy to all our families celebrating Chinese New Year!
Science Show - January 2023
The children in Key Stage 1 and Key Stage 2 were treated to a fantastic Science show on 'Materials' by Adrian Bowden's Travelling Science Show. The children were in awe at the experiments he conducted and many children got the chance to be his assistants.
Father Christmas visit - December 2022
The children in Key Stage One were visited by Father Christmas this week. Each child got to tell him what they want for Christmas and they all received a small gift. The children were very excited to meet him!


M6 theatre visit - December 2022
The children were visited by the M6 theatre company this week and were lucky enough to watch their Sunflowers and Sheds show. They loved the story and seeing how the characters developed throughout the show.
Owls at SBS - November 2022
Year 1 were visited by SJM Falconry who brought four owls for the children to learn about. The children listened to facts about the different types of owls, saw them fly and everyone had the opportunity to hold one of the owls. The children used this learning to write owl fact files in their English lessons.
Remembrance Day 2022
As way of commemorating Remembrance Day and Armistice, we decorated our classroom doors this year with poppies in the style of our curriculum artists.
Lest We Forget.
| | | | |
| --- | --- | --- | --- |
| Nursery | Reception | 1P | 1M |
| 2C | 2F | 3N | 3T |
| 4R | 4C | 5L | 5T |
| | |
| --- | --- |
| 6H | 6J |
Diwali 2022
We celebrated the Hindu Festival of Diwali here in school with a special assembly, which included a demonstration of Bollywood inspired dancing and back in class the children learnt about the story of Rama and Sita and how Diwali is celebrated by Hindus around the world.
Shakespeare at SBS - October 2022
Year 6 were fortunate to watch the Young Shakespeare Company in a mesmerising performance of the play Macbeth. This provided a wonderful opportunity for the children to experience Shakespeare through direct involvement in one of his plays. The play was brought vividly to life and involved the whole audience in recreating some of the most dramatic scenes in this story of ambition, guilt and revenge.
| | | |
| --- | --- | --- |
| | | |
Tom Palmer Visits Smithy Bridge! - October 2022
Years 5 and 6 were delighted to have the celebrated children's author - Tom Palmer - in school. Tom is particularly well known for the Football Academy and Conkers series of books. Tom talked the children about his writing process and why reading is so important. The children asked some fantastic questions and enjoyed hearing what Tom had to say. He certainly inspired some budding authors!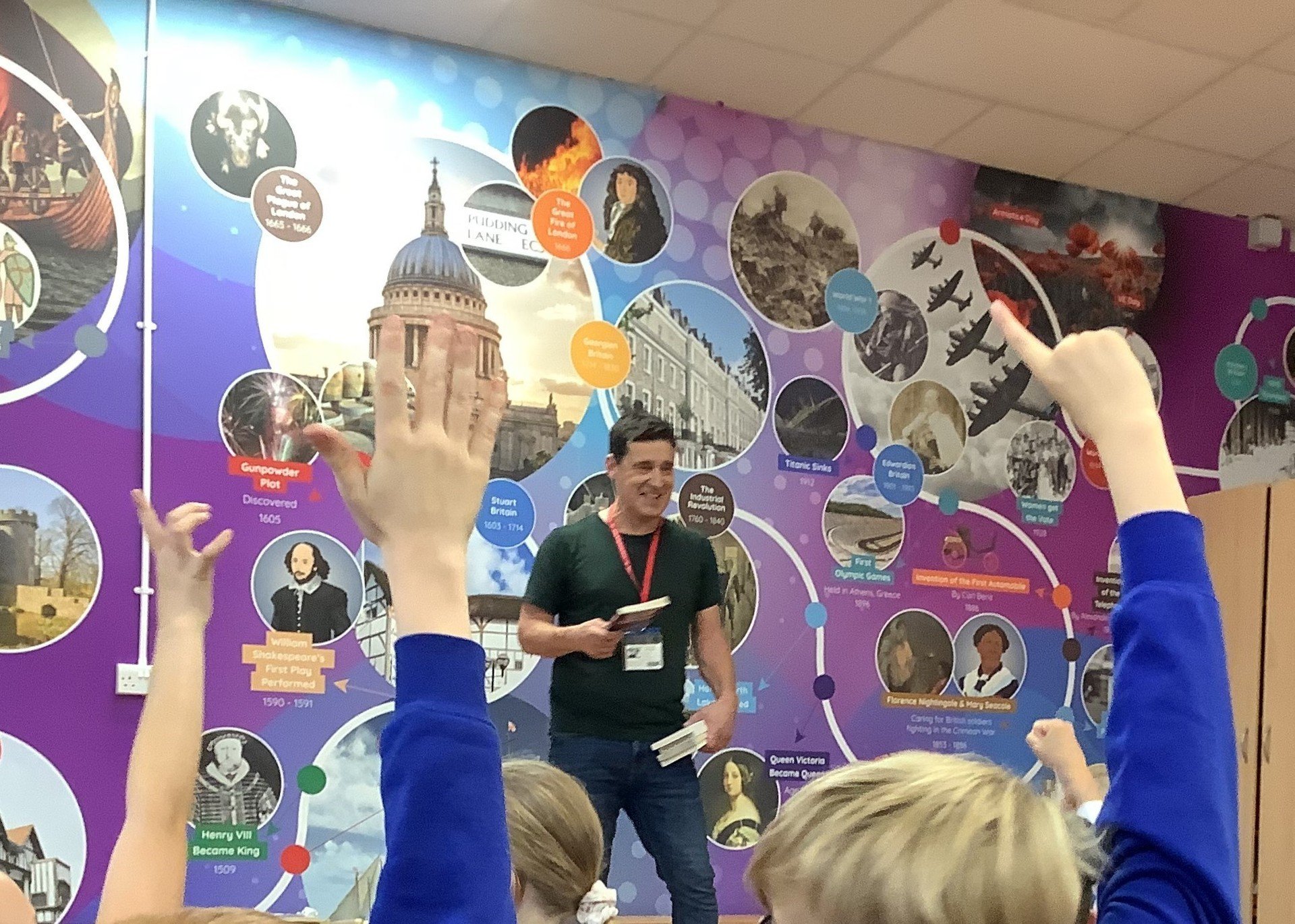 Eid 2022
All the children enjoyed celebrating and learning about Eid. They tasted some delicious treats and dressed up in their beautiful party.